The London Mayor's design adviser, Sir Terry Farrell is overseeing the project which will have to comply with strict anti-terrorism guidelines laid down by the US Government.
If permission is granted, construction on the 15-acre site could begin as early as next year.
The development will be located at the Nine Elms site in the London Borough of Wandsworth.
The masterplan for the 6ha site offers nine building plots with buildings rising to up to 23 storeys.
Ballymore sold the land for the US embassy building in December 2009. The embassy is expected to open in 2016.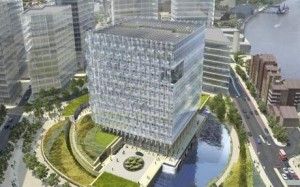 The £650m new US embassy will take the form of a futuristic cube. Building work is due to begin in 2013 and be completed in 2016