The £12m London turnover fit-out specialist, which counted the Conservative Party and Harley Davidson among its clients, fell into administration at the end of April.
The firm ran into trouble after it lost major client, the union Unite.
In the last three weeks at least three fit-out contracting companies have fallen by the wayside, blaming a shortage of work and rock-bottom margins for their problems.
The collapse of Metro was a huge blow to its founder Daniel Taylor, who single-handedly built the business up from a small interior design-led company into a well-known fit-out specialist in the London market.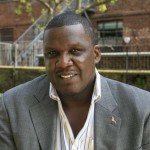 Daniel Taylor built Metro from a small interior design business into a leading turnkey fit-out specialist
Joint administrators, Jeremy Frost and Stephen Patrick, have sold the name and goodwill to a company called Accounting Training Ltd, which is a dormant trading company.
But a trade source told the Enquirer that the mystery buyer was a former supplier to the fit-out firm.
"The buying company's name has been changed to Metro Design Consultants, and it looks like the name will be trading again shortly," said the source.
"The original business was down entirely to Daniel Taylor. He's not involved with the new owners but it looks likely he will work as an independent consultant for the new company."
It is understood that up to 20 jobs have been saved in the deal.