A new study by strategy consultants Credo found that housing associations and local authorities are outsourcing just 60% of their housing maintenance. This saves the sector an estimated £1.1bn, according to the report.
But, if the sector fully embraced outsourcing, extra savings would top £1.8bn, which could be ploughed into building new homes.
The research, which was commissioned by contractor Morrison, also found that the collapse of Connaught and Rok has hit confidence.
This year has seen a sharp fall in contract sizes in both large and mid-sized contracts. Credo said the reasons for this was likely to be a lack of confidence in the economic outlook and providers' preference for spreading risk amongst a larger number of suppliers.
Dineshi Ramesh, principal consultant for Credo, said: "The untapped £2bn opportunity in outsourcing social housing is undeniable.
"But in recent times local authorities and housing associations have shown greater caution in moving to bolder forms of outsourcing, this is an understandable but, we think, temporary effect.
"As their financial situation becomes clearer, housing managers and chief executives can turn their attention to how they can get a slice of the savings offered by outsourcing."
Guy Wakeley, chief executive of Morrison, said: "While social housing has remained relatively untouched by cost cutting to date, largely as a result of some expenditure such as reactive maintenance being considered non-discretionary, there remains a considerable need to drive for savings from housing providers.
"The sector has to respond to this demand but it must be done in the right way, squeezing prices is not a sustainable option and will only lead to poor quality services which are likely to fail."
Housing maintenance strategies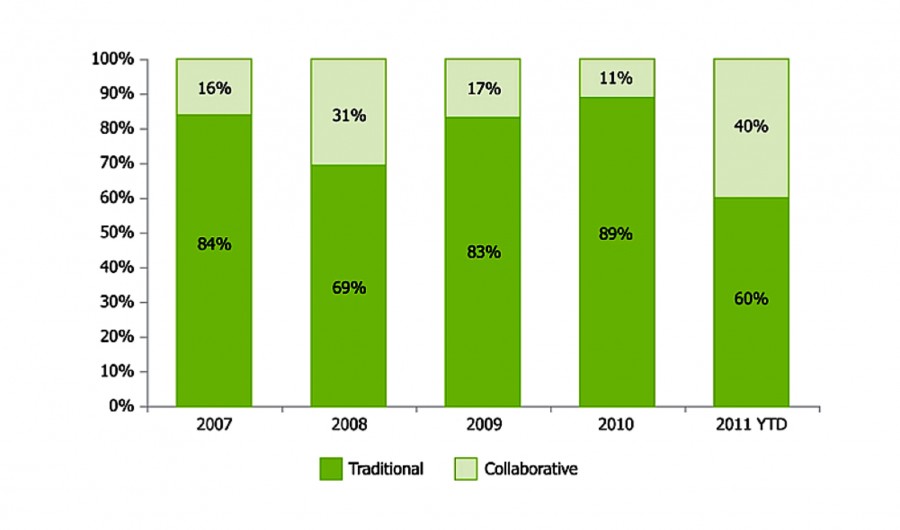 But there are signs that more collaborative contracts are on the increase according to the findings of the research, which found that this type of model formed 40% of the contracts starting in 2011.
This suggests that social housing providers after negotiating lower prices are now looking at more collaborative methods to drive further cost savings.
Guy Wakeley added: "Landlords are quite understandably looking to protect themselves from risk and the reduction in contracts' sizes and the increased use of extensions are two examples of this.
"I believe this is a positive change for the sector, as it will help drive increased creativity by service providers who are looking to secure new contracts and extensions, and ultimately drive service levels for clients and residents.
"The social housing sector can no longer afford to use the same old methods it must become more flexible if it is to make the savings it needs whilst meeting increased demand."