The latest results are the first to be released since Alan Peterson joined as chairman, after Enterprise parted company with chief executive Neil Kirby earlier this year.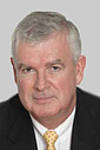 Peterson starts Enterprise efficiency drive
Peterson said he would embark on a broad restructuring programme this year, which would bring big benefits in 2012.
"We have taken a number of steps during the year to ensure we best position Enterprise to address our future markets. We recognise the importance of cementing our position as best value, lowest cost operator."
During 2010, Enterprise made an operating profit of £61m, down from £77m last time.
But a series of exceptional charges and write downs saw a huge booked pre-tax loss.
These included a £73m non-cash goodwill write down relating to previous acquisitions, which were taken as a result of expected falls in public sector work.
There was also an exceptional charge of £38m covering legacy contract items on old contracts and a further £4.8m to cover the first part of the restructuring.
"This latter charge represents the first stage of a broader restructuring programme with further costs to be incurred during 2011 as the group targets improved levels of efficiency in its operation", said chairman Peterson.
"The full year benefit of these restructuring measures will be seen in 2012."
He added that Enterprise maintained strong net cash flow during the year of £49m. This helped cash rise by £12m to £77m, despite spending £9m on three acquisitions.
But tightening market conditions and rising bid costs saw profit margins drop to 5.6% from 7.3% in 2009, while group turnover remained in line with last year at £1.1bn.
Peterson, who comes with a strong pedigree from HSS and Jewson, said: "Recent changes in the way the group is managed and in its cost base will improve operating efficiency throughout Enterprise.
"We have also established a project management office, to drive a number of key change programmes which will transform operational performance and reduce costs."
He added: "The drive for greater efficiency will be relentless and will extend beyond the current identified programmes."