Major sites with planning approval include the 79,600m² Principal Place and 45,800m2 London Wall Place in the City of London.
Retail schemes include the Eastgate Quarters in Leeds where a 106,000m2 retail-led scheme in Leeds will be anchored by John Lewis and Marks & Spencer, alongside 130 new retail and restaurant units and sites in Sheffield and Didcot.
Hammerson also confirmed in its results today that it has identified a number of potential redevelopments, extensions and smaller development schemes worth £335 million which could start within the next two years.
Refurb and extension pipeline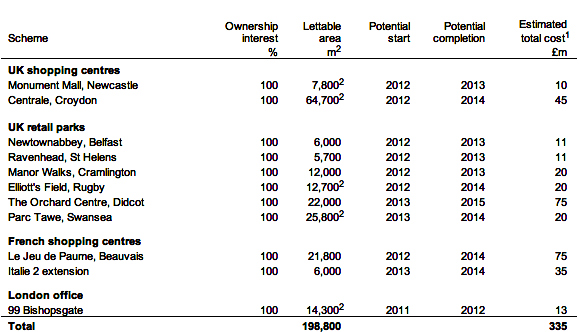 The firm said: "After a period of restrained activity as the real estate market contracted during the worst of the economic downturn, we are now increasing the resources applied to development.
"We will progress projects on the basis of sound financial analysis demonstrating good returns, when the relevant markets are sufficiently robust and when we have the right level of interest from occupiers."