The incident happened at around 4.25pm on Thursday at the Abraham Darby School on Ironbridge Road in the Madeley area of Telford where Kier Moss is main contractor on the £35m new academy job.
Two rapid response vehicles, four ambulances, the Midlands Air Ambulance from Cosford, the Hazardous Area Response Team and two paramedic managers were sent to the scene.
A West Midlands Ambulance Service spokesman said: "When ambulance staff arrived, they found a large metal structure that had been put up around the school had collapsed.
"At the time of the collapse a number of workman had been on the structure and had become injured as a result of the incident.
"In total, there were four serious injuries:
"A man in his 40s had suffered spinal injuries. He was immobilised using a neck collar and spinal board and was airlifted to the Queen Elizabeth Hospital Birmingham.
"A man in his 50s had leg and chest injuries, a man in his 20s had abdominal injuries and another man in his 20s had back and pelvic injuries. All three were taken to Princess Royal Hospital in Telford which had been alerted to the possibility of a large number of patients.
"The final patient was a man who had minor injuries and was taken for a check up.
"The ambulance service worked with colleagues from the fire service to get all of the patients out of the wreckage of the collapsed structure. The structure was then searched to ensure there were no further patients.
"Despite the complexity of the incident and the difficult working conditions, all of the patients were on route to hospital within only an hour of the first 999 call."
A Kier spokeswoman said:  "Following the collapse of a section of steelwork on the front of the Abraham Darby Academy building yesterday afternoon, we confirm that five of our site team were taken to hospital and all have been kept in overnight.
"The police remain on the scene and the HSE is attending the site this morning. We will be co-operating fully with them as part of an investigation to determine exactly what happened."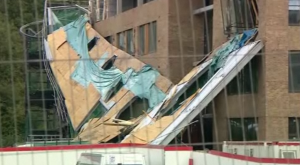 An ambulance service spokesman said the workers had been on the steelwork structure at the time of the collapse.