The sparks have targeted the Shard for their next protest against plans by eight major contractors to withdraw from the JIB industrial relations agreement.
One protester told the Enquirer: "It was another good turn out this morning and shows that this campaign is not going to go away.
"The Shard will be the next site targeted then we will turn our attention on one of the contractors involved a start a series of focused protests.
"Tony Benn was in the area today and decided to come along and lend his support.
"It was a real boost for all the lads at the the protest."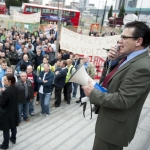 Ucatt leadership candidate Mick Dooley addresses the crowd