Government figures for the second quarter of the year are the first to be released since the spending cuts came into force.
They reveal construction orders fell 16% compared with the previous three months, and are down by a quarter against the same time last year.
Public housing and public building orders plunged by nearly a third. Private orders failed to cushion the blow as the Government had hoped with housing and office building both falling.
Industrial building was the only sector of construction to show an upside, but with actual spending at such a historically low level it had little impact on overall orders.
The data completed a dire day for industry prospects as optimism levels among construction purchasing managers hit their lowest level for eight months in August.
Construction Products Association chief executive Michael Ankers said: "This is an alarming set of figures at a time when the economy is already slowing and the construction industry is seen as having a major part to play in rebalancing the economy.
"Government has to take these figures very seriously and while maintaining its commitment to addressing the country's long term budget deficit it needs to find ways to bring forward key infrastructure projects to help stimulate economic growth."
Orders briefing

All new orders
16% down on previous quarter and 23% below same period last year

New Housing
Private housing down 8% on Q1 and 21% down on a year ago.

Public housing down 31% on Q1, 32% down on a year ago.

Infrastructure
Down 26% compared to Q1 and down 44% compared to last year.

Public building, excluding housing
Down 30% on Q1 and 43% down on same period last year.

Private building, excluding housing
Office building down 5% on Q1 and down 13% on last year.

Industrial building up 7%, down 10% on last year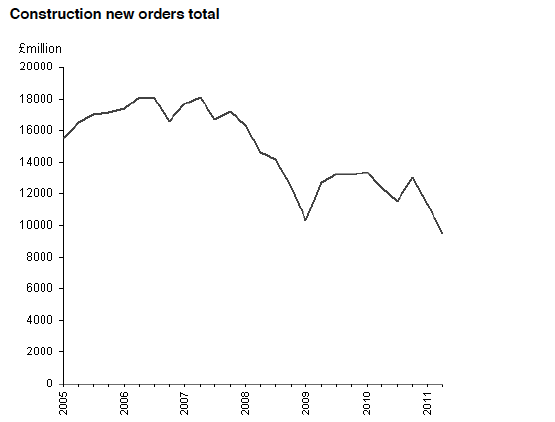 The sharp fall in infrastructure spending supports earlier reports of work drying up among civil engineering contractors.
Civil Engineering Contractors Association director of external affairs Alasdair Reisner said: "It's hard to see any silver lining on this particular cloud.
"No one was expecting stellar order figures, bearing in mind the impact of public spending cuts and the more general economic environment both here and abroad, but it's the sheer scale of this drop that is concerning."
He added: "Government has done a lot of work around construction in recent months to encourage investment and cut inefficiencies, and we've always been supportive of their efforts.
"But figures like these show how urgent it is that the good words we have heard are turned into actions, because right now the long-awaited private sector-led recovery seems very distant indeed."
Latest results for the Markit/CIPS UK Construction PMI index showed an August figure of 52.6 compared to 53.5 in July.
Any reading above 50 represents a rise in activity and the index posted growth for the eighth month in succession despite dropping to its lowest level during that time.
Sarah Bingham, Economist at Markit and author of the UK Construction PMI said: "August data signalled slower growth of both output and new orders as headwinds caused by uncertain economic conditions impacted on sector performance.
"Confidence regarding future business expectations weakened to an eight-month low, highlighting concerns in respect of further potential cuts in government spending, but also a dampening of wider business sentiment, which may act to reduce investment on construction projects.
"Another month of job cuts again reinforced lower confidence over future activity levels within the construction sector.
"A further marked rise in input costs faced by constructors was again recorded in August, suggesting that overall operating conditions remain tough, especially as strong competition for tender opportunities remained."
David Noble, Chief Executive Officer at the Chartered Institute of Purchasing & Supply, said: "Reality is continuing to bite in the UK construction sector, as worries over wider economic conditions contribute to a slower rate of output growth.
"Although over a third of panellists anticipate growth of activity in the coming year, the overall level of positive sentiment remains far below that seen at the start of the recovery.
"Lukewarm order books have contributed to sharper declines in staffing levels. However, the proof of the pudding will be whether the reported increase in competition for new orders, plus increases in fuel and commodity prices, will subdue confidence going forward.
"The housing sector also continues to be a worry, with a fall in the number of residential projects adding to an already sluggish picture for the sector.
"Though overall activity is still in growth territory, there may be some question about whether this will continue for much longer."