The latest statistics come just weeks after orders figures for the second quarter of the year slumped to a 30-year low.
The latest set of official figures will pile on pressure for the Government to stimulate the economy and come up with a Plan B.
With new orders drying up and recorded output looking weak the construction industry looks like it is heading for hard times ahead.
Investment in public housing took the biggest hit with new build plunging 16% and repair and maintenance falling 9% against the same period last year.
The next biggest fall was recorded in infrastructure work, down 8.6%.
The Government will find some solace in the figures after last quarters figures were revised up from 0.5% to 1.1%, as it should help to increase the second quarter GDP figure for the UK.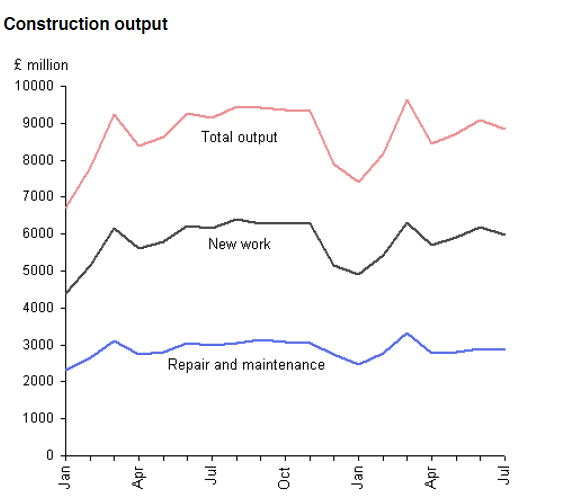 Michael Ankers, chief executive of the Construction Products Association, said the body would shortly present ideas to stimulate growth without major new investment to Vince Cable's business and skills department.
He said: "People are saying there has to be some thinking what a Plan B might look like, so we're putting some thoughts to the government about what it can do to change things."
Today the CBI called on the Government raise its capital investment to pre-recession levels as soon as possible.
John Cridland, CBI Director-General, said: "Firms across the country say that the infrastructure they depend on every working day is just not good enough and is stifling growth.
"We need ministerial decisions that get spades in the ground and people working now."