According to the latest housing market survey by the Royal Institution of Surveyors, the number of sales per surveyor over the three months to August fell to just 14. This is the lowest average since June 2009 levels.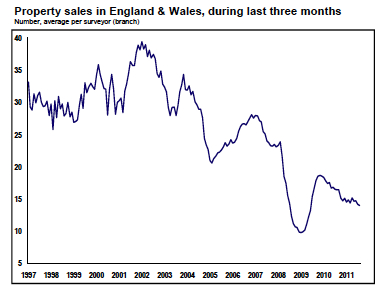 The latest figures are a gloomy pointer for future house building activity.
All volume builders have pledged to rein in starts so they fall into in line with market demand, as the industry battles to patch up holed balance sheets.
Average stocks on surveyors' books also fell back to 67 from 70 in July.
Around 40% of surveyors said that fears over house price falls were affecting transaction levels, as many buyers and sellers stay away from the market while they wait for things to improve.
New buyer enquiries, which signal buyer demand, fell back in August as 3% more chartered surveyors reported a decrease rather than an increase.
The sluggish market contributed to the downbeat pricing picture in August.
Some 23% more surveyors reporting prices fell rather than rose, with a similar proportion expecting further declines over the next three months.
Alan Collett, RICS housing spokesperson, said: "For the time being, our indicators suggest that demand for homes remain broadly steady, albeit at relatively low levels, despite the renewed bout of economic gloom.
"However, the risk is that the worsening economic picture will gradually begin to have a more material impact on sentiment and discourage potential house purchasers even where mortgage finance is available."