Department of Energy and Climate Change, National Grid and the Royal Institute of British Architects today crowned the T-pylon the winner of a six-way race to come up with a 21st century design.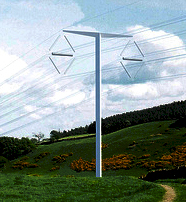 National Grid will now work with Danish designer Bystrup to develop its T-Pylon design further.
National Grid has also said it wants to do further work with Ian Ritchie Associates on their Silhouette design, and New Town Studio's Totem design.
Bystrup receives £5000 prize money and the five other finalists will each receive £1000.
Nick Winser, executive director, National Grid, said: "In the T-Pylon we have a design that has the potential to be a real improvement on the steel lattice tower.
"It's shorter, lighter and the simplicity of the design means it would fit into the landscape more easily. In addition, the design of the electrical components is genuinely innovative and exciting.
"However, the Totem and Silhouette designs are worthy of further consideration – both of them have strong visual appeal and characteristics that could work well in different landscapes.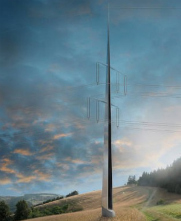 Silhouette design
"We are genuinely delighted at the prospect of working with all three companies to develop some real options for the future."
"This is an innovative design which is simple, classical and practical," said energy and climate change secretary Chris Huhne.
"Its ingenious structure also means that it will be much shorter and smaller than existing pylons and therefore less intrusive."