The latest forecast from the Construction Products Association is the bleakest yet from the trade body, which has revised down its previous output predictions.
The CPA said more than £32bn of construction output had been lost since the start of the financial crisis in 2007.
It predicted construction activity will fall 1.1% this year, before diving 3.6% in 2012 and flatlining at  zero growth in 2013.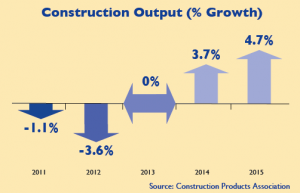 The forecast piles pressure on Government to come up with fresh measures to stimulate construction in the forthcoming Autumn spending statement if it is to prevent the economy slipping into a double dip recession.
CPA chief executive Michael Ankers said: "Although government is committed to cut capital expenditure by 20% over the next four years, the hoped-for robust recovery from the private sector, to compensate for these cuts, is not materialising.
"Recovery finally arrives in 2014, but by then we will have experienced the worst decline in construction activity for more than 30 years.
"It is essential that more is done by government to kick start the economic recovery.
"Despite the government's desire to support housing recovery, housing starts in 2012 will be the second lowest year since 1945. Private sector housing is slowly recovering.
"Unfortunately public sector housing starts are forecast to fall by a third, leading to an overall reduction in the total number of housing starts in 2011 and 2012.
"By the end of the forecast period we will have a shortfall of more than two million homes in the UK," predicted Ankers.
The CPA said that even with Government attempts to stimulate house building, private housing starts are forecast to be only 137,500 in 2015, well down on 230,000 pre-recession levels.
Rail and energy infrastructure investments were rare bright spots with growth expected to nearly double and treble, respectively over the forecast period.