Architect Lord Foster and consultant Halcrow produced the self-funded designs for the Thames Hub, which it has been estimated could cost more than £50bn to build.
Nothing of this scale has ever been proposed in the UK as a single scheme to this level of detail.
The grandiose plans link important rail freight connections between the country's main sea ports with a new 150m passenger airport in the Thames estuary and a big tidal energy and flood protection barrage.
Lord Foster believes the estuary airport should be located on the Hoo Peninsula, 55km from London, which can be reached in 30 minutes by high-speed rail.
He said: "We need to recapture the foresight and political courage of our 19th century forebears if we are to establish a modern transport and energy infrastructure in Britain for this century and beyond.
"If we don't then we are denying future generations to come. We are rolling over and saying we are no longer competitive – and this is a competitive world. So I do not believe we have a choice."
"If the UK is to remain globally competitive, these proposals need to be seriously considered."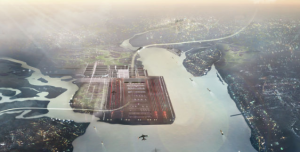 Airport project offers chance to reawaken UK's global ambition, says Lord Foster
Halcrow group board director, David Kerr, said: "Great challenges require bold solutions, which is why I believe our Thames Hub vision is critical to society and to the country's economic prosperity. If we don't sustain and invest in infrastructure, then it's at our peril.
"If the UK is to remain globally competitive, these proposals need to be seriously considered."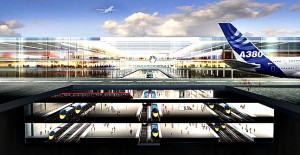 New giant terminal is designed to handle 150m passengers a year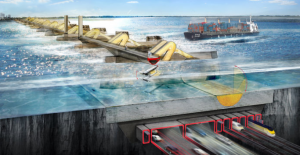 A much-needed new Thames Barrier would be integrated into the airport plan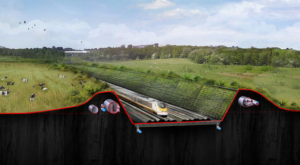 A new four-track, high-speed passenger and freight Orbital Rail route around London to link to the rest of the country
The long-term vision, which spans the next 50 years into 2060 builds on the significant development of the Mayor of London's call for a new airport in the Estuary, while developing the capacity across all of the UK's transport modes and trade routes.
Its backers argue the ambitious plans will deliver lasting social, environmental and economic benefits and improve the lives of the 5m people living below the Heathrow flight path.
Thames Hub components

New barrier crossing offering flood protection to London and the Thames Gateway into the 22nd century. It would harnesses tidal power to generate carbon-free energy
Four-track, high-speed passenger and freight Orbital Rail route around London linking London's radial lines, HS1 and HS2 and European networks
Estuary Airport enabling the UK to retain its global aviation hub status.
New utilities and data spine running through the Thames barrier, orbital rail line and high-speed networks
Environmental management strategy to create significant new wildlife habitats to more than offset losses elsewhere. The project would reduce pressure on shore habitats from rising sea levels and storm activity