According to new figures from the Civil Engineering Contractors Association, the infrastructure sector is facing a challenging 12 months, with the real risk of a double-dip recession in the industry.
The workload survey for the third quarter of the year shows 22% more civils contractors experienced falling workloads compared to 9% in the previous period.
Firms are also considerably more gloomy about prospects for the industry with a third more firms expecting orders to contract, compared with 1% in the previous quarter.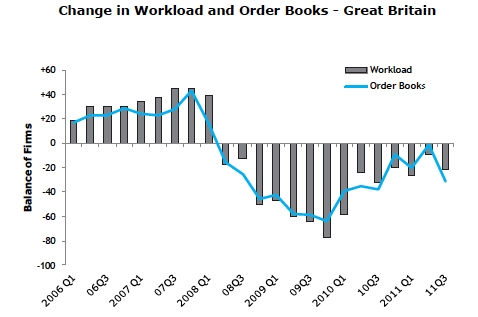 This is despite the encouraging words of the Prime Minister David Cameron, who has recently written of the need to address the U.K.'s "infrastructure deficit", which he has described as "as serious as our budget deficit."
Civils firms reported that market conditions remained volatile across most sectors of work, and that drastic action was needed to address the gap between the U.K.'s infrastructure sector and our competitors.
Only the regulated sectors of rail, water and electricity showed growth compared with last year.
CECA director of external affairs Alasdair Reisner commented: "These are worrying times for those working in the U.K.'s infrastructure sector.
"These latest figures show that the hoped-for recovery in our industry has not materialised, and reductions in capital spending have begun to have a tangible impact.
"The Chancellor should use the opportunity provided by his autumn statement to take action to remove barriers to the development of key infrastructure projects, which will significantly contribute to growth in the U.K."
–