The safety conscious contractor said it will ensure from January that all its boom-elevated work platforms are fitted with additional crush protection.
And from April, all subcontractors will be required to use compliant cherrypickers or face having machines removed from site.
The decision follows the death of a site worker three years ago on a Skanska job.
Since then the contractor has been working with the HSE and International Powered Access Federation to develop safer machines.
A total of 13 workers have been killed using powered access machines between 2003 and 2009, six using cherrypickers.
They died either from crush injuries or asphyxiation, often after falling onto controls and being pinned between an overhead obstruction.
Dylan Roberts, director of health & safety for Skanska UK said: "Following the tragedy in 2008, we felt it imperative to make a step change in the training and competence of users of MEWPs and the introduction of additional safety measures.
I am very pleased that we have finally been able to take this step. We encourage the UK construction industry to follow suit."
Several other main contractors are also understood to have been in talks with major hirers like Lavendon and AFI, which have produced new machines or will retrofit existing cherry pickers with anticrush devices.
Lavendon has developed a device called SkySiren, which can be retrofitted to most boom lifts in minutes.
This works by reacting to pressure on a sensitive rubber strip placed between the operator and the platform control panel. The pressure is converted into a signal to stop the cherrypicker immediately and sound the alarm.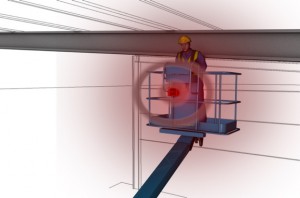 Mick Ledden, business development director at Lavendon Access Services, said: "We felt it was critically important to provide a solution that could not be 'worked around' and create more danger, or cause frustration or obstruction for the operator.
"The feedback and interviews with operators regarding the SkySiren during 'User Acceptance Trials' with Skanska for example, convinced us we had the right solution.
"We would like to thank Skanska and all the other participants in the six-month trial project for their collaboration, input and support."
Another hirer AFI has been working machine manufacturers Haulotte and Genie to develop anti crush bars that are fitted to the platform.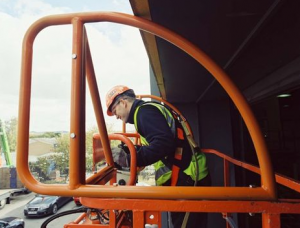 Austin Baker, director of AFI's health, safety and environmental quality department, said: "We believe that the Sanctuary Zone is the most important safety development in the powered access sector for many years.
"We are so convinced that it will save lives that we want to make it available to everyone, including our competitors."