The latest Government figures show that new work output fell 0.6%, against the previous quarter.
But the fall in overall construction output was a marginal 0.2%, mitigated by growth in repair and maintenance work of around 0.7%.
The monthly figure for September raised fears that the fall in output my be accelerating, with the industry shrinking by 1.9% compared to August.
Output Q2/Q3 by sector

Private housing: -2.5%
Public housing: -8.2%
New infrastructure: -0.3%
New public building works: +0.5%
New private building (ex housing): -8.5%
Public housing refurb: -2.2%
Private housing refurb: -0.7%
Non housing repairs: +2.3%
Overall construction workloads in the period July-September were down 1% against a year ago.
The latest figures from the Office of National Statistics also include big revisions to previously quoted growth figures for the second quarter.
Number crunchers have revised the figure sharply upwards from 1.1% to 2.6%, suddenly recording robust growth for construction over the early summer period.
One industry watcher said: "The latest figures for the third quarter are probably quite meaningless, when the ONS can make such big revisions to previously stated growth figures.
"There is some concern among industry analysts about the scale of these upwards revisions."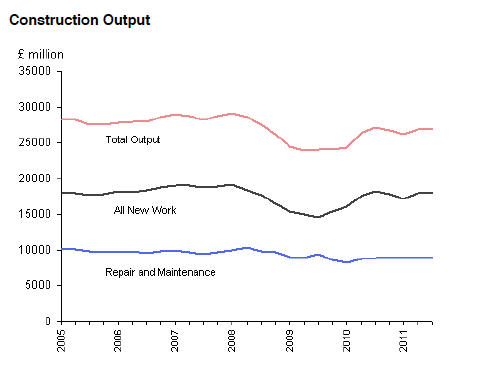 Andrew Duncan, managing director of property at the project management consultancy Turner & Townsend, said: "These figures are further evidence of the strength of the bad economic headwinds buffeting the construction sector.
"As the Eurozone debt crisis goes from bad to worse, a tidal wave of uncertainty is washing across the Channel, swamping any green shoots that may have sprouted in the second quarter.
"Over the summer months sentiment in the sector did improve – or rather became less funereal.
"But these third quarter figures will dash any hopes that the worst is over.
"Output has fallen in two thirds of the industry's sectors, and where there is growth it is both halting and fragile.
"Already low levels of confidence have been further eroded, and we've seen substantial belt-tightening in the private sector.
"The one, meagre, ray of light is the steady increase in levels of repair and maintenance work. But that cannot offset the dropping off of new build work.
"The omens for next year are not good, as the Eurozone saga shows little sign of abating, and the doubt it is sowing risks undermining the fragile progress made by the industry in 2011."