Passengers are set to benefit from £46m of improvements at 21 stations across England after the latest round of successful bids for rail industry funding.
They include new and extended car parks, park and ride projects, station redevelopments and new retail space.
One of the largest projects will see Newcastle station transformed with £8.6m spent on new facilities, improved waiting rooms and toilets, better signage, alterations to the existing bridge, new lifts and escalators.
There will also be new glazed canopies to increase natural light.
Full list of projects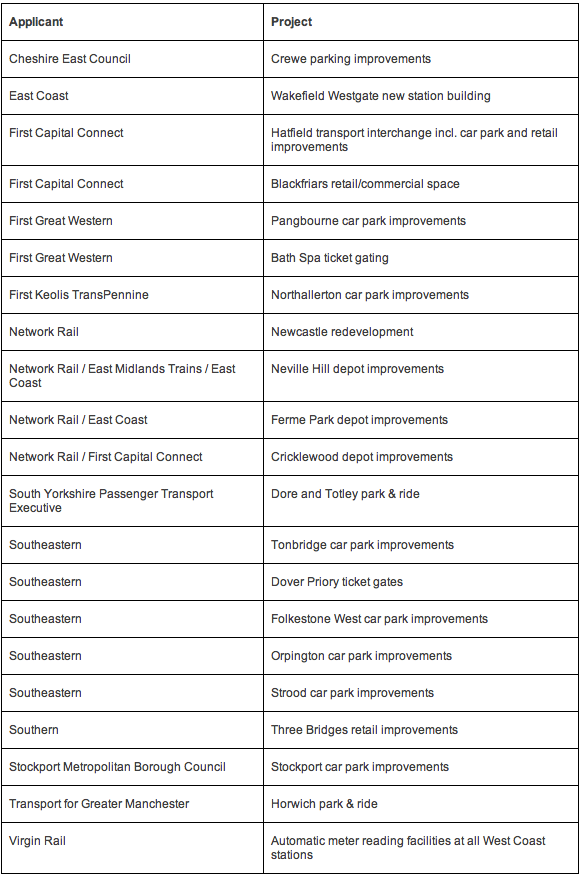 Robin Gisby, managing director, network operations at Network Rail, said: "This is a fantastic example of the rail industry, local authorities and other organisations working together to improve the passenger experience without increasing the burden on the taxpayer.
"This second wave of successful bids means this year we have allocated more than £67m in total towards projects. which will make travelling by rail better and will generate a substantial return on investment."
The first tranche of successful bids was announced in August, with funding totalling £21m allocated to 15 projects.
Throughout the bidding process there has been no cap on the maximum value of proposals and bids have been welcomed from third party organisations as well as the rail industry.
The proposals were assessed by a panel including the Department for Transport, ATOC and Network Rail.
In addition to the 21 projects announced today, three further second tranche bids have had funding ring-fenced, pending clarification on certain aspects of the projects.
Once funding for these bids has been finalised a decision will be taken by the panel on how to proceed with the fund's remaining monies.