While there was an upturn against the second quarter this year, new orders in the first nine months of 2011 have fallen sharply and are now 14% lower than in the same period in 2010.
The latest figures indicate the mountain the industry must climb to return to pre-spending cut levels.
The value of new orders in the third quarter  was the lowest it has been for the time of year since 1980.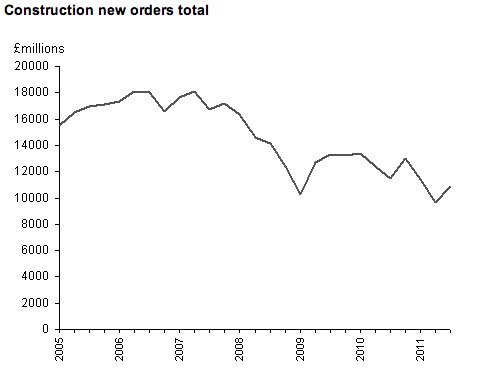 Forecasters are now warning that even with the infrastructure spending boost of £5bn, contractors should brace themselves for an even worse 2012 because most stimulus projects will not break ground until 2013.
Michael Ankers, chief executive of the Construction Products Association, said:  "Although new orders have improved since the previous quarter, this is still the lowest figure for Q3 since 1980.
"As expected the fall is sharpest in public sector construction – education, health, and social housing – and although there is some pick up in orders for private sector commercial work, this is heavily focused in London and the south east and is not strong enough to compensate for the sharp decline in orders for public sector work.
"This week's Autumn Statement brought the prospect of increased investment in infrastructure but the government's figures show that this will not have any significant impact until 2013 at the earliest.
"As a result, and in the light of today's new orders figures, the industry needs to brace itself for an even sharper fall in output in 2012 than that already anticipated."
Latest ONS order figures by industry

Private housing: up 0.3 Q3/Q2; down 17% against Q3: 2010
Public housing: down 5.3% Q3/Q2; down 16.5% against Q3:2010


Infrastructure: up 28% Q3/Q2; up 8% against Q3:2010


Public building: up 12% Q3/Q2; down 17% against Q3:2010


Private retail/ commercial: up 21% Q3/Q2; up 8% against Q3:2010
Private industrial: down 3% Q3/Q2; down 4% against Q3:2010