Plans go in for student tower in Vauxhall London
North West developer Downing has submitted plans for a student skyscraper scheme in Vauxhall, south London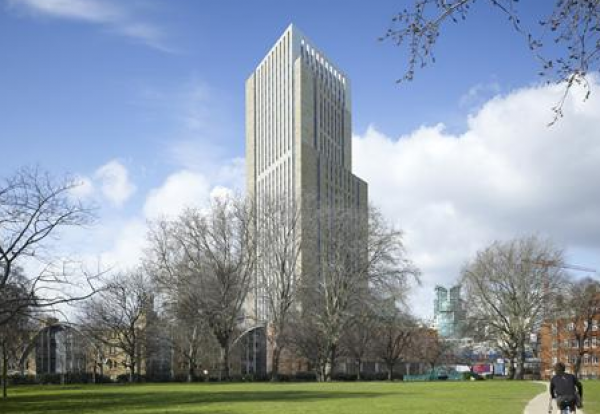 The 32-storey tower will be built on South Lambeth Road to house 572 student bedrooms, a gym and a 25m swimming pool which will also be open to the public.
The site has been identified in the London Plan and Vauxhall Nine Elms Business Opportunity Area as being suitable for tall buildings.
Designed by architect Feilden Clegg Bradley, the Vauxhall scheme will be Downing's first foray into the London development market.
Ian Harrison, development manager at Downing, said: "Our proposals would transform an under-used site with high quality student accommodation and contribute new community leisure facilities to the local area.
"London has one of the most robust student markets in the world and there is strong demand for high quality, purpose-built accommodation.
"We are actively seeking other sites in the capital for future projects," he said.
The planning application has been submitted to Lambeth Council following extensive public consultation in the local area and 76% feedback received expressed support for the scheme.
In direct response to feedback, the length of the proposed swimming pool has been extended from 20 metres to 25 metres, allowing it to be used for competitive swim training.
Downing has already completed a 23-storey  building for Leeds Metropolitan University known as Broadcasting Place and is eyeing up more sites to add to its 6,000-bed student accommodation portfolio.