Problems with external concrete spalling have been known about for several years, but maintenance contractor Amey has called for extra time to assess the extent of damage within the core of the 900m bridge structure.
The busy London flyover was closed on 23 December due to concerns about a serious structural defect.
Since engineers and contractors have been working round the clock on a detailed investigation.
They hope to decide shortly on what remedial action needs to be taken and when the flyover can safely be reopened to traffic.
The damage to the ageing 1960's structure has been caused by water ingress, including salt water due to grit laid during the winter months, which has corroded and weakened supporting cables.
Amey engineers decided to break out two sections of concrete around pre-stressed tendons close to a pier head and revealed they had snapped.
Engineers now need to test the strength of each tendon to get a picture of the current strength of the bridge.
TfL had planned to renovate the bridge after the Olympics, but now it may be forced to take emergency remedial action on what is a key route from Heathrow to the Olympic stadium.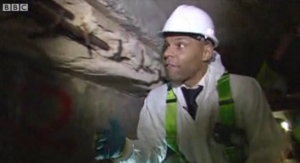 TfL said that it was exploring all options to reopen the flyover to traffic as soon as possible, but had to await the outcome of further work to test the extent of the problems found in the structure.
In the short term, TfL may opt to use temporary props before fitting new steel tendons to support the bridge superstructure and extend its life.
Leon Daniels, TfL's Managing Director of Surface Transport, said: "Our team continues to work night and day alongside the world's leading structural engineers to fully understand the extent of the flyover's structural problems.
"I have been inside the flyover and seen for myself the unique issues we face," he explained.
"Safety must be our top priority and we have not taken the decision to close the flyover lightly.
"However, we are working flat-out to determine what measures we must put in place to safely reopen the flyover as soon as possible."