The scheme, developed by Bouygues Development and its consortium partner One Housing Group, forms part of the London Borough of Newham's £3.7bn Canning Town and Custom House Regeneration Programme.
The 6ha site will reconnect the areas north and south of the A13 flyover – i.e. Canning Town Corner with Barking Road and Rathbone Market – to create a vibrant, accessible and safe Town Centre.
Phase 1 of the scheme will comprise 179 residential units of private and affordable housing, shops and a 70,000sq ft Morrisons supermarket.
Work will start on site in Canning Town in the last quarter of the year.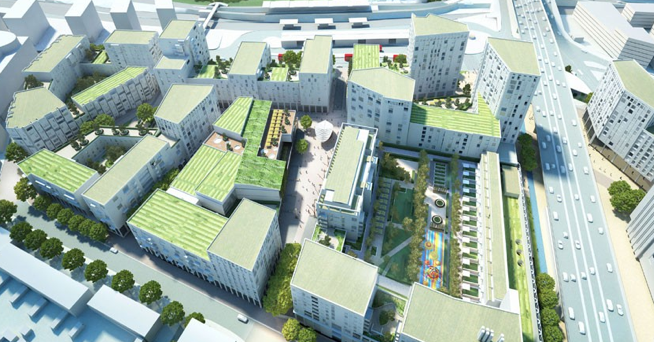 The entire town centre scheme includes approximately 1,100 mixed tenure housing units, over 300,000sq ft of leisure and retail space and over 50,000 sq ft of space for community facilities. The whole scheme is scheduled to be completed by 2023.
Stephane Slama-Royer, Managing Director of Bouygues Development, said: "This is a tremendous decision for Canning Town and for East London as a whole.
"The regeneration scheme will bring a much-needed sense of place to the area and a wealth of opportunity to the local community. 2012 looks set to be a monumental year for enhancing the economic prospects of the Olympic fringes in East London."
Clive Dutton, Newham Council's Executive Director for Regeneration and Inward Investment, said: "To be delivering a new, £600m town centre scheme in the current market is a huge achievement and testament to the strength of Newham's regeneration vision and our ability to work with private and public sector partners to deliver that vision.
"The Bouygues Development scheme will spur on not only the wider Canning Town and Custom House regeneration programme, it will also give momentum to the wealth of opportunities throughout Newham's arc of opportunity running from The Royals through to Stratford. It is further evidence that East London and Newham in particular are at the heart of London's future economic growth."