Developer Marcus Cooper Group plans to level the black and white iconic Marco Polo House in Wandsworth to make way for the new housing complex.
It will also provide more than 12,000 sq ft of new shops, cafes, restaurants and offices.
As part of the Section 106 legal agreement with Wandsworth Council, Marcus Cooper will pay more than £12m towards local infrastructure upgrades including two new Northern Line stations and an expansion of the Barclays Cycle Hire Scheme.
Other contributions secured by the council include £2.5m for affordable housing programmes in other parts of the regeneration area and £92,500 towards improvements to Battersea Park.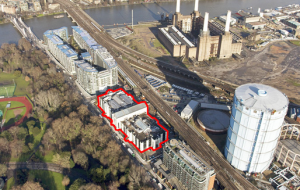 Wandsworth Council's planning chairman Cllr Nick Cuff said: "This scheme would create hundreds of new homes and provide almost £12m towards improving local services and infrastructure.
"Nine Elms has begun to transform on an enormous scale. Building work is already underway on several major schemes and more planning applications will soon be coming forward.
"The Government's commitment to extending the Northern Line has reinforced investor confidence and it won't be too long before a new residential and business district has taken shape."
The Nine Elms and Vauxhall opportunity area includes 450 acres of land between Battersea Park and Lambeth Bridge on the south bank of the Thames.
The London Plan anticipates up to 16,000 new homes and 25,000 new jobs will be created here as the area is redeveloped.
Work is now underway on major development schemes including St George's Vauxhall Tower scheme and St James Group's Riverlight development.
Enabling works are also underway on the site of the new US Embassy which is expected to open in Nine Elms in 2017.
The area also includes Battersea Power Station which has planning permission for more than 4,000 new homes and a new town centre development.