Saracens' application has been recommended for approval by London Borough of Barnet planning officers and will now go to the planning committee for the the final nod.
Under Sarries' plans, Copthall Stadium in Mill Hill would be transformed into a 10,000-capacity ground to be used for up to 16 matches a year on a new synthetic pitch.
This would make them the first professional club to play home matches on an artificial pitch.
The stadium would remain the home of Shaftesbury Barnet Harriers Athletic Club, and would be available for community sport use for the rest of the year.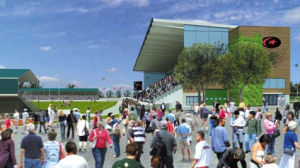 Saracens chairman Nigel Wray said: "The recommendation to approve our planning application is a very positive step forward, and we sincerely hope that councillors will also be able to support our plans.
"Issues have been raised throughout the process, such as Green Belt policy and transportation. We have responded by amending our plans, providing further information and introducing robust safeguards."