The steel frame of the new £6.1m City Gates Christian Centre partially came down but all 22 workers on the site escaped unharmed.
It is believed the site team had clocked off for the day just minutes before the collapse.
HSE investigators have still to determine what caused the steel frame structure on the Ashe Construction site to collapse, despite eyewitness speculation.
Ashe confirmed to the Enquirer that the steelwork contractor on the job is Norfolk based DGT Structures.
It is believed steel beams spanning the building's main auditorium failed bringing down surrounding steel work.
A statement by Ashe said: "An Ashe rapid response team visited the scene and assisted the emergency services in securing the site last night.  A 60m exclusion zone has been put into place.
"The site has now been handed back to us by members of the emergency services, and the Health and Safety Executive and forensic experts will start investigations into how and why the collapse occurred.
"Ashe Construction is doing all it can to assist the HSE and other appropriate parties."
Eye witness Mick Pandher told the Ilford Recorder: "I looked towards the building and I thought it was a thunder storm at first.
"Seconds later, I saw the whole building going to the floor.
"It was very sudden. It was like when you see a building being demolished. It came down in a straight line."
A Fire Brigade statement said: "Our specialist urban search and rescue (USAR) crews were called to a collapsed building on Clements Road in Ilford. Six fire engines and four fire rescue units were also at the scene.
"The five storey building was under construction.
"The steel frame surrounding it collapsed and scaffolding from the construction site also fell into a nearby car park, damaging six cars.All 22 construction workers on the site escaped uninjured.
"USAR crews used specially trained dogs to complete a systematic search of the area and were able to confirm that no-one else was involved in the incident, although one passer by was treated for shock by London Ambulance Service.
"A crane on the site was left in a precarious position after the building collapsed and a 60 metre safety cordon was established."
Work on the site started last June with construction due to last 16 months.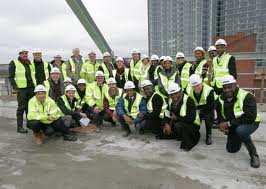 The topping out ceremony last week and the scene yesterday