Rochdale Interchange was one of 20 schemes released to promote growth in the Chancellor's Autumn Statement at the end of the last year.
It is the first of the raft of projects to reach final approval, which means that all statutory powers have been sought and contracts approved.
Work can now start in April on the main construction works with the new bus station scheduled to open in summer 2013.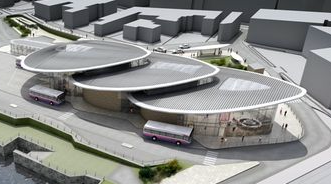 The new interchange will improve safety and security for bus passengers and will link directly with the new Metrolink extension currently under construction.
The interchange will be on the site adjacent to the existing bus station and next to the new Council offices currently under construction.
Now the site of the existing station can be redeveloped as part of the wider £250m town centre plan.
Norman Baker said: "I am in no doubt that this new station will encourage more people to travel by bus in and around Rochdale which is why we're putting nearly £7m into this impressive scheme which will support growth and cut carbon.
"Having visited the bus station, it was clear to me that action had to be taken. The new station will be a significant improvement on the current facilities – the dark and dingy atmosphere is not the welcome you want when you arrive into town – and will also allow redevelopment of the existing site which will bring some 1,500 new jobs into the town."