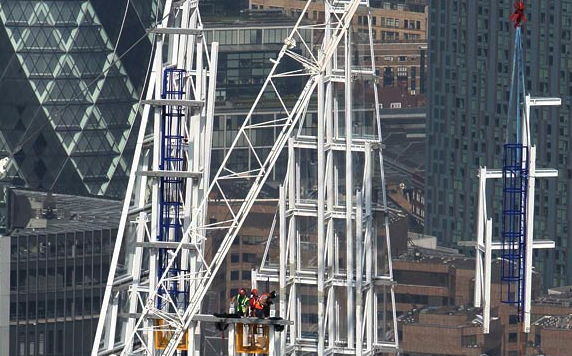 The steelwork takes the iconic landmark building to an equivalent of 95 floors, allowing the project to edge closer to its June external completion goal.
It has taken around 100 crane lifts to construct the final section's steelwork which comprises a total of 800 separate pieces of steel.
The steel on the final stage will now be clad in 516 panes of glass, forming a relatively small part of near 11,000 panes that have been used to clad the Shard overall.
London Bridge Quarter, which also includes The Place, a 600,000 sq ft gross office building, the Shard Plaza, a new public space, new station concourse and bus station, will be fully completed by the end of the first quarter 2013.
Gareth Lewis, chief operating officer for main contractor Mace, said: "We have now reached the summit of the Shard safely and on time.
"Lifting the final seven tonne section into place to bring the structure to its full 310 metre height is a great achievement by the whole team."
Developer Irvine Sellar, chairman of Sellar Property Group, said: "This is another milestone in the development of the Shard which has become a global iconic landmark building.
"The Shard is making a positive impact on London's skyline and there is discernible excitement among Londoners as the building nears completion. It is a 'vertical town' that includes a viewing gallery, restaurants, and a five star Shangri-La Hotel, which will all be open to the public, as well as residences and offices."