Westminster Council gave approval to the mixed-use development that promises the first new West End theatre in over a decade.
In total, £1bn is being spent to build the new Crossrail station and upgrade the capacity of the Tube station.
The private sector-funded over-site developments in four distinct blocks will be built once work to construct Tottenham Court Road station is complete in 2017.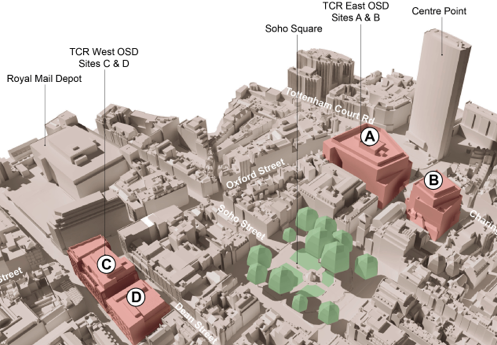 This will make a significant contribution towards the Crossrail funding package.
A new 350-seat theatre will replace the former Astoria Theatre following an agreement with Nimax.
London Underground and Crossrail have also proposed detailed plans to renew and upgrade the public spaces around the eastern ticket hall and St Giles area.
A new open pedestrian space linking Soho Square and Charing Cross Road will create new views of the Square and of St. Patrick's Church.
Ian Lindsay, Crossrail Land and Property Director said: "The £1bn redevelopment of Tottenham Court Road station provides a once in a generation opportunity to revitalise the eastern end of Oxford Street.
"The plans including high-quality offices and shops will enhance the Oxford Street and Charing Cross Road area as a thriving cultural and retail destination."