The rapid transit bus route will run from Ashton Vale to the Temple Meads train line with works broken up into seven separate design and build contracts.
Rapid transit will provide a fast, frequent public transport service run on a largely segregated route, separate from car traffic, and will be given priority over other road users at traffic signals.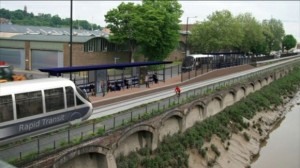 The main £30m design and build element involves construction of a two-way segregated busway between Long Ashton Park and Ride and the Museum of Bristol.
The next biggest package at £13m involves building a new overbridge at Stoke Lane onto the M32.
A further five contracts will involve two new bridges and three upgrade and strengthening jobs to listed bridges on the city centre route worth together around £10m.
Work on the main guided busway route is expected to start in November next year and run through to Spring 2015.
Further information is available at https://www.proactisplaza.com/supplierportal
Bristol City Council is one of four councils working together as the West of England Partnership to tackle transport and other major strategic issues in the region.
Other busway schemes will link into the city route to build a network through south Bristol to Bath and Weston-super-Mare.