Christopher Heaton, from St Helens, was working on the Leftbank riverside apartments on the Spinningfields development when he was dragged over the guardrail on a scaffolding platform after becoming entangled in a chain.
Liverpool Crown Court heard the 25-year-old died after falling seven storeys on April 29 2004.
Another worker, who does not want to be named, was also injured and the incident has had a long-term psychological impact on him.
The court was told Heaton had been using a chain from a scaffolding platform to adjust a steel beam three stories above him, when one of the supporting brackets gave way.
He was struck by a falling steel block, became entangled in the operating chain, and was dragged over the edge of the scaffolding.
An HSE investigation into the incident found that the wrong studs had been used to secure the chain, and that the work had not been properly planned or monitored.
Amec was found guilty of safety breaches and was fined £300,000 and ordered to pay £333,866 costs.
Shawton Engineering Ltd, of  Newton le Willows, Merseyside, pleaded guilty to safety breaches.
The company is now in administration and received a nominal fine of £1,000 with no costs.
Speaking after the hearing, Christopher Heaton's father, Len, said: "The loss of our son has completely devastated our lives. Nobody can imagine the impact his death has had.
"Chris was a good lad, with a happy go lucky outlook. He loved his job and was looking forward to a career in engineering.
"I used to worry about him all the time, especially when he was out at night. Ironically, I didn't worry too much when he was at work. I thought he was safe.
"After eight years, it is still hard to believe this has happened and, to try to put into words how it has affected us, is very difficult. I think we think about him more now than when he was alive.
"Chris would still be alive today if simple health and safety rules were adhered to, and hopefully lessons have been learned to stop this type of incident happening again."
Neil Jamieson, HSE Principal Inspector for Construction, added: "It is horrifying that Christopher Heaton was dragged off a scaffolding platform more than 20 metres high, causing him to plummet to his death.
"This was a major construction site, and the work taking place there should have been properly planned and managed.
"If either Chris's employer, Shawton Engineering, or the principal contractor on the site, Amec, had acted differently then his life could have been saved."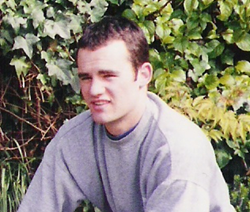 Christopher Heaton was looking forward to a career in construction