The SikaTack Panel Registered Contractor Scheme has been launched in response to rising demand for rain screen systems on buildings.
Its specialist installer scheme is designed to offer main contractors, architects and clients complete quality control throughout the specification, supply and installation process of the SikaTack Panel Adhesive System.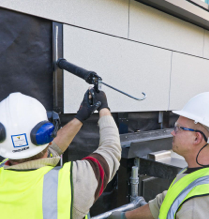 This is now the most widely specified secret fix, structural adhesive system for rainscreen cladding applications as it is the only system to be fully British Board of Agrément accredited.
Glued systems help to reduce cold bridging, and with its elastic bond also cuts the stress placed on the cladding panels by allowing them to move in line with normal building movements.
Interested firms must provide evidence of a stable trading history, good project references and a commitment to Health & Safety and the environment.
Firms must also comply with all relevant British Standards, hold appropriate insurance cover and be VAT registered.
Interested installation specialists can call 0800 11323863.