The Institue for Animal Health has started search to sign up the professional construction team ahead of appointing a contractor for the job.
New research facilities are being built to carry out research on animal viruses and need to be built to a very high level of biological containment.
The multi-disciplinary design team will consist of a lead consultant and include an architect, civil and structural engineer, and mechanical and electrical building services engineers.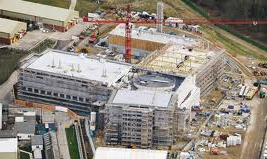 Presently, Shepherd Construction is building the £100m phase one main livestock laboratories (above), which are due to become operational in early 2014.
The second of three planned phases was allocated a further £100m of funding by the Government last year despite across the board spending cutbacks.
It is estimated the new lab will cost £70m to build, and will concentrate on avian viruses, particularly those that pose a threat to humans.
Construction is due to start next summer.