London Mayor Boris Johnson also yesterday committed £30m to clear the way for the London Sustainable Industries Park, including the capital's first organic waste recycling facility.
The new investment includes a £21m anaerobic digestion waste recycling facility that will be built and run by the TEG Group.
A further £10.3m will go towards the works programme to transform the disused brownfield site into a thriving new business quarter to attract up to 750 jobs and 500 construction jobs.
VolkerFitzpatrick will take a chunk of this to fund its £4.5m contract to build roads, footpaths and cycle ways, utilities, drainage and landscaping by February 2013
The London Sustainable Industries Park is located on a 25ha site brown-field land, formerly a coaling port, at Dagenham Dock.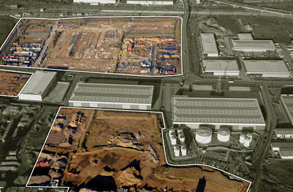 Aerial view of site of London Sustainable Industries Park site
It is hoped the park will attract up to £500m of investment, eventually to become home to the largest concentration of environmental industries and technologies in the UK.
Johnson said: "This exciting new project is set to bring hundreds of much needed new jobs into Dagenham, an area that has suffered from a decline in traditional industries.
"I am investing more than £10m into this site owned by City Hall to create a vibrant new destination for innovative businesses.
"Low carbon industries represent a growth market, which will support a new generation of jobs for Londoners but also bring cleaner, energy efficient businesses that contribute to a better quality of life. So I am delighted to welcome our new tenants the TEG Group."
Mick Fishwick, CEO of The TEG Group, said: "We are very pleased to be one of the first companies to come to the Mayor's new London Sustainable Industries Park. This is our first major plant in the South East and the first anaerobic digestion development facility to be created within the M25. This is set to be a flagship operation for TEG and will provide a facility to recycle London's organic food and green waste."
The Mayor also revealed that the GLA is in talks with another major potential occupier to build one of the largest industrial gasification plants in the UK on the park which would take municipal and industrial waste to produce energy which unlike incineration has an overall carbon-negative footprint.
He said: "The plans for the plant would potentially see a 197,000 sqft building on a 8.3 acre site, with construction planned to begin in January 2013."