They also revealed the four iconic chimneys are beyond repair and will be ripped down and replaced with concrete replicas at an extra cost of £12m.
The mammoth 12-year redevelopment plan will see 3,500 homes, 1.7m sq ft of offices, 0.5m sq ft of shops and a park created at the 39-acre site.
Preparatory work will begin later this year, with construction proper starting next Summer on the £400m first phase of 800 flats, built on top a commercial complex that will include shops, restaurants, gym, pool, spa, theatre and office space.
This phase designed by Raphael Vinoly is expected to be completed by 2016.
A six-acre riverside park will also be created, which will be open to the public.
Robert Tinckell, chief executive of former owner Treasury Holdings, has got the job to oversee the project as chief executive of the development company.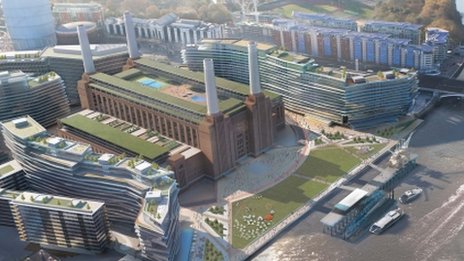 Tan Sri Liew Kee Sin, president and chief executive of SP Setia, which with Sime Darby and the Employees Provident Fund form the consortium, said: "With the sale now complete, we can move forward with our vision to build a vibrant, accessible and functional town centre for the Vauxhall, Nine Elms, Battersea area with the power station at its heart, creating up to 26,000 new jobs in the process."
The colossal scheme is now estimated to have a final development value of £8bn.