Orders for the second quarter rose 0.2% helped by an unexpected rise in spending on schools and private housing.
But orders are running at around 40% below peak in 2007.
The latest figures were 11% up on the same time a year ago, although this growth is exaggerated by an unusually sharp fall during the same period last year.
Simon Rawlinson, head of strategic research at EC Harris said: "Today's new orders figures for the Q2 show virtually no change from Q1 and will soothe some frayed nerves in the Treasury and the wider industry.
"These figures are from the same three months during which output was recorded as falling by 5.2%.
"This suggests that the forward pipeline of work is stabilising, in line with industry forecasts for a shallow downturn in 2013".
He said that the figures suggested greater stability in activity levels moving into 2013, but warned the industry was by no means out of the woods with public sector activity expected to fall.
Private housing orders increased by 10%  recovering to typical levels seen last year.  Public sector orders showed a 30% increase on the quarter to the highest volume since the start of last year.
But the dour performance of the commercial sector, including PFI still raises a cause for concern in the industry.
Rawlinson added: "The data could have been a lot worse, but does not yet point to growth."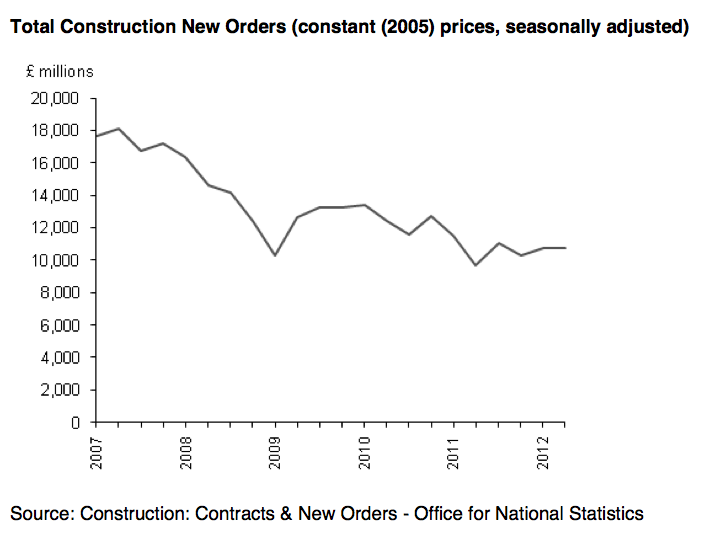 But Brian Green, industry economic commentator, said: "The real problem with the orders figures is that they are stabilising at levels we saw in the bleaker part of the 1980s.
He added: "If you look at the private sector there is no sign of any great vibrancy"
Steve McGuckin, UK managing director of the programme management consultancy Turner & Townsend, said: "The headline number is positive, but the good news is thin.
"Private sector and infrastructure construction provide a much better barometer of the nation's economic health. And the outlook there is challenging.
He added: "The increase in new orders has to be welcome, but the fact that the growth is primarily coming from the public sector means it may not last."