Developer LXB Retail Properties is in detailed talks with the contractor to build shops at the former Bridge Street car park and Riverside Recreation Centre.
A contract for the job is expected to be signed shortly to allow demolition of the Bridge Street car park and enabling works on the Riverside Recreation Centre to get underway.
M&S has signed a pre-let for a 25-year lease to anchor the scheme in a 65,000 sq ft two storey unit.
Basement parking for 180 cars will be built underneath the two-storey M&S and the Bridge Street multi-storey car park will be replaced with a seven-storey parking lot offering 1,000 spaces.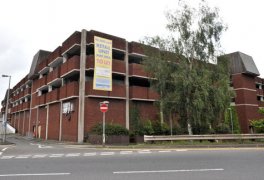 Car park will be demolished to clear way for new multi-storey lot
Once this is complete the London developer intends to start on a Morrisons supermarket (Below) at the nearby Kingsmead site to the north, which will be connected by a pedestrian bridge over the river Sow.