The tower will be built on South Lambeth Road to house 553 student bedrooms, a gym and a 25m swimming pool which will also be open to the public.
Downing's construction arm expects to start on site next year and to have the project finished by the end of 2015.
The site has been identified in the London Plan and Vauxhall Nine Elms Business Opportunity Area as being suitable for tall buildings.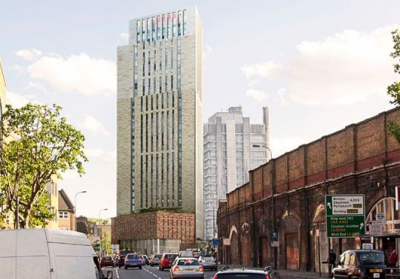 Designed by architect Feilden Clegg Bradley, the Vauxhall scheme will be Downing's first foray into the London development market.
Paul Houghton, development director at Downing, said: "We are delighted that the scheme has been approved by the London Borough of Lambeth.  The scheme represents a significant investment in the area, not only through the £4.5 million swimming  pool and leisure facility, but also through the in excess of £1.5m of contributions that will benefit the local area.
"The proposals will redevelop a brownfield site and provide a major boost to local businesses through the increased spend that the students will deliver.  We will continue to liaise closely with site neighbours and the council during the construction period to ensure we deliver the scheme as quickly and smoothly as possible."
Downing has already completed a 23-storey  building for Leeds Metropolitan University known as Broadcasting Place and is eyeing up more sites to add to its 6,000-bed student accommodation portfolio.