George Collier, the 49-year-old construction director of Conwy building firm Parcol Developments, was found guilty of gross negligence manslaughter, a charged he had denied.
Toddler Megan Burgess was walking home from the shops behind her mother and baby brother in July 2008 when the breeze block wall designed by Collier collapsed on top of her. She died shortly afterwards in hospital.
The court heard that Collier was doing construction work outside a house in Ffordd Penrhwylfa, Meliden at the time and had pilled earth behind the block wall.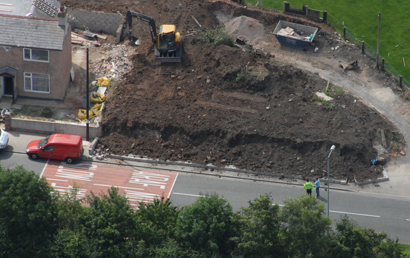 Aerial view of the scene of the wall collapse
An investigation by North Wales Police and the Health and Safety Executive found the wall had been acting as a retaining wall but had not been designed or constructed for this purpose and fell under the weight of the earth stacked up against it.
The judge told Collier he gambled and cut corners with tragic consequences, he praised the family for their dignity and told Collier his gross negligence would remain with the family forever.
Parcol Developments had pleaded guilty to breaching the Health and Safety at Work Act 1974 at an earlier hearing.
Speaking after the hearing, HSE Inspector Debbie John said: "On the day of the incident George Collier and Parcol Developments Ltd backfilled the wall despite knowing that retaining walls should be designed by a specialist structural engineer. Neither had engaged a structural engineer to design a safe retaining wall.
"This case is an important reminder to those working in construction to make sure that design work is done by competent people and building is done to the appropriate standard.
"It also highlights the importance of ensuring that members of the public are kept away from construction work."