Developer Exemplar can now go-ahead and demolish the Spitalfields building and a multi storey car park to make way for office and retail space.
The scheme was initially rejected by the local Tower Hamlets council and attracted fierce local opposition because it would mean the loss of Dorset Street, where Wedgewood china company had its first showroom and where Jack the Ripper murdered his last victim.
The London Mayor made his decision after a public hearing at City Hall, and said: "These plans will not only restore the façade to its former glory, but regenerate the Spitalfields area with thousands of new jobs, and brand new commercial opportunities.
"It will also make a vital contribution to the wider London economy and have a significant impact not just on Tower Hamlets but on surrounding boroughs as well."
Existing building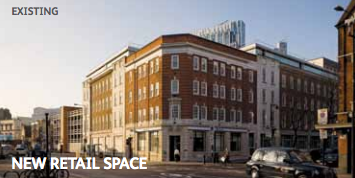 Planned new building