French waste management firm Veolia has a PFI contract to dispose of Shropshire's waste and is planning to get work underway on the Battlefield Enterprise Park by the end of this month or in early November.
Clugston is understood to have secured the civils and building package, which is expected to be worth more than £30m.
The project is another coup for Clugston, which was one of the first contractors to identify the wealth of opportunities in the energy from waste market.
Clugston has notched up several major incinerator building projects in the last few years.
Three are currently under construction and include a £50m contract to build the Ardley Energy from Waste scheme, in Oxfordshire with process partner CNIM.
The pairing are also working on a similar size of project at North Hykeham in Lincolnshire (below), which is due to finish next year.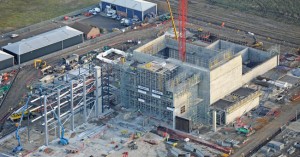 Another project at Four Ashes in Staffordshire involves the construction of a 300,000 tonne per annum energy recovery facility and will also complete in 2013.
Clugston's first scheme in Sheffield, also for Veolia was completed in 2006.
The decision to start work on the Shrewsbury project comes as opposition groups headed by Friends of the Earth dropped plans for a last ditch legal challenge.
Around 180 construction jobs will be created on the site, which is adjacent to the existing household recycling centre and transfer station at Battlefield Enterprise Park in Shrewsbury.
The facility would treat approximately 90,000 tonnes of waste from Shropshire per year. This would be about 45% of the municipal waste produced in the county and produce power enough for 10,000 homes.
With this facility in place, along with the expansion of recycling in the county, instead of landfilling 65% of household waste in 2005/6 this is expected to be reduced to 5% by 2015.