Bath and North East Somerset Council was forced to postpone the August start of the project earlier this year after criticism from some local people, and the town's civic society about the designs .
Now after several design variations to the roofs and cladding, the council planning committee has approved the scheme.
The project involves the £36m redevelopment of the existing council offices site in Keynsham with new shops, a library and new council offices.
The buildings have already been stripped for demolition and the scheme, while the planning wrangle was being sorted out.
Original design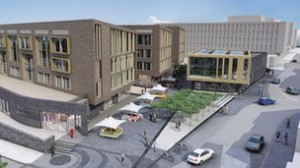 Revised plans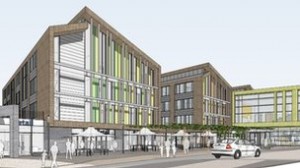 The project will allow the council to reduce the amount of office space it uses from 12 building to four and become more financially efficient.
Reduced running costs will deliver 10% annual savings that will benefit the local taxpayer public purse. The Council carbon footprint specifically in its buildings will reduce by up to 70%.