The WX148, WX168 and WX188 boast a three-pump hydraulic system, with a dedicated swing pump. They also come as standard with a new engine speed/working mode selection dial, a heavy-duty undercarriage and an improved operator's cab.
Case said the new models offer better operator comfort, ease of operation, excellent service accessibility and reduced ownership costs.
The more powerful hydraulics are managed by the Case Intelligent Hydraulic System control. Automatic Powerboost is included on all three models for heavy breakout and lifting operations.
There is also an automatic power increase in travel mode to ensure rapid travel between working areas. Improved orbitrol steering provides easy to use, effortless steering performance.
A new engine speed and working mode dial allows the operator to set low idle speed, Lift 1 and 2 modes for dedicated lifting work, Eco working modes 1, 2 and 3, plus a heavy mode for maximum excavating performance. There is also a dedicated road travel mode for rapid relocation between sites.
The Case Intelligent Swing system allows the operator to adjust upper structure slew speed for different working conditions.
The latest WX models come fitted with an even more robust chassis with the option of a dozer blade, a dozer blade and stabilisers, or stabilisers front and rear, for total balance and a solid working platform.
The ROPS/FOPS operator's cab on the WX machines fully meets all EU regulations and comes with automatic air conditioning and air-suspended seat.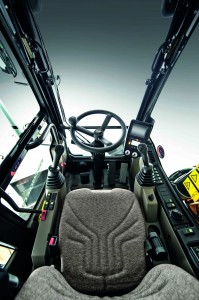 All three excavators had new long life bushings as part of their robust boom and arm design. These provide 500 hour greasing intervals for the WX168 and WX188 and 100 hour intervals for the WX148.
Safety valves are standard on the main boom, and Case offers a handling kit including dipper arm safety valves, loading hook or eye and an overload warning system as an option.
Spec check
WX148
Operating weight: 15.2-16 tonnes
Engine: Four cylinder 90kW Tier 3
Bucket size: to 0.73m3
Max travel speed: 35km/h
Bucket digging force: 99.5kN
Arm digging force: 72.9kN
WX168
Operating weight: 17-17.9 tonnes
Engine: Six cylinder 105kW Tier 3
Bucket size: to 1m3
Max travel speed: 35km/h
Bucket digging force: 112kN
Arm digging force: 73.8kN
WX188
Operating weight: 18.2-19.7 tonnes
Engine: Six cylinder 118kW Tier 3
Bucket size: to 1m3
Max travel speed: 35km/h
Bucket digging force: 136kN
Arm digging force: 91kN