The water company plans a preliminary consultation with major tier 1 contractors with financial capacity and experience of managing and delivering complex, heavy civils and tunnelling works.
Construction is expected to start in 2016 and take up to seven years, and Thames Water said the demand for innovation will test the industry's elite contractors, designers, manufactures and logistic experts.
The 7.2m diameter tunnel will broadly follow the River Thames, running 25km long and up to 70m deep.
Six custom-built tunnel boring machines will drive under the capital's existing infrastructure, including bridges, transport and utility tunnels, in-river structures, river walls and buildings.
In addition to the tunnel and new pumping stations, contractors also need to intercept or control 34 combined sewer overflows that discharge into the river.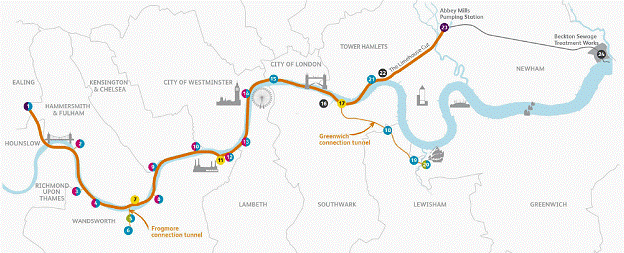 Getting involved
Interested firms should email: procurement@tidewaytunnels.co.uk marked "FAO the supply chain manager". Email must include:
1. Company name
2. The legal status of the economic operator and relevant registered company registration number
3. Contact details (name, position, telephone, email and postal address) for prime contact and any secondary contacts
4. Area of interest categories:
a) Tier 1 main works
b) MEICA
c) Marine transportation/logistics
d) Provision of tunnel boring machines
e) Other (stipulate other area)
Deadline for registering interest is 4pm on Friday 23.11.2012.