An 8.2% or £450m decline in private commercial work was the largest contributor to the fall, but this was offset somewhat by an 9.9% increase in new infrastructure work, albeit at a lower net value.
The estimated volume of all new work fell by 2.2% and repair and maintenance fell by 3.2% in the third quarter compared with the preceeding three months.
Over the year from the third quarter of 2011 to the third quarter of 2012, there was an 11.3% fall in total construction output.
New work fell by 14.5% with decreases in all sectors other than private industrial, which remain small.
The largest falls in new work were seen in public non-housing (20%) and private commercial (17.4%).
Repair and maintenance output fell by 4.8% over the same period. The only sector of repair and maintenance that grew in this period was public housing (2.6%).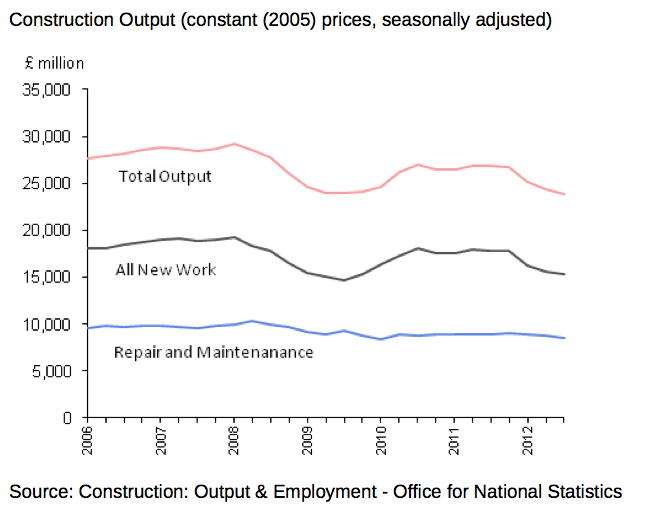 David Crosthwaite, an economist for construction and property consultant AECOM, said: "The rate of decline shows no sign of slowing down and output in most sub-sectors is now significantly below the levels achieved at the beginning of the last decade.
The question is what can anyone do to arrest the decline? Both public and private sector seem unwilling or unable to invest in built assets and until this position changes I'm afraid it's likely to be more of the same."