The rest of the country has seen big cuts in the regional construction workforce, with the north east suffering most from a loss of nearly a third of jobs.
But London's total workforce is bigger than it was in the 2007 UK construction peak, according to latest official data.
The new Government figures published by website Brickonomics paint a stark picture of the true regional impact of the construction downturn, which has decimated the workforce in the north, and seen the south escape the worst of the heavy job cuts.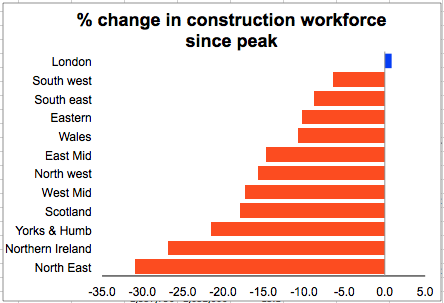 But even the capital has seen a shift in employment patterns. Over the five-year period direct staff employment fell 13% as self employment surged up 18%.
One contractor told the Enquirer: "You just have to look at the skyline to see there is still a lot of work in the capital. Crossrail is also starting to get into gear.
"But the big question is where is the new building work coming from. Commercial building looks like it is slowing down and housing starts should be better."