The small 5% rise in new work orders was down to a recovery in infrastructure work but still remained the third lowest on record.
Worryingly, commercial work fell 8% on the previous quarter, and is now only 31% of the peak level recorded in 2007.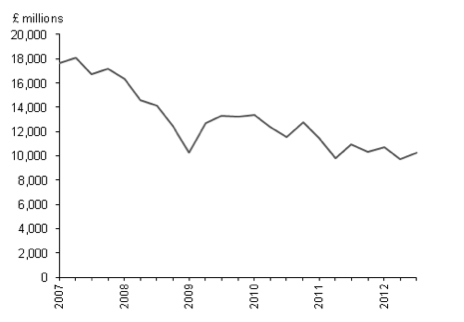 Simon Rawlinson, Head of Strategic Research at EC Harris: "The increase masks a deep malaise in the commercial sector.
"Total new orders in the third quarter returned to the 'new normal' levels that have been seen in the industry since the beginning of 2011.
"This is an improvement on the dire figures seen in September, but provide little replenishment for the hungry supply chain.
Private housing and the public sector were stable, although volumes in private housing are down on last year, suggesting that efforts to revive housing financing are not reaching down to the supply chain yet.
Rawlinson added: "Infrastructure and the private sector will be the drivers of recovery, and we know from the Autumn Statement that infrastructure remains a long term bet.
"While uncertainty holds back commercial investment, recovery in the construction market feels some way off."