The timetable comes as Crossrail moves into the peak of construction between now and 2015.
Key milestones over the next 12 months include:
The launch of Sophia, Crossrail's fifth tunnelling machine in January, followed by a sixth tunnelling machine, Mary, this summer.
Construction of the new Crossrail Custom House station will get underway
The eastern tunnelling machines will break through into Canary Wharf station box this spring before making their way towards central London
The western tunnelling machines will pass through the sites of major new Crossrail stations, starting with Bond Street followed by Tottenham Court Road
Continued archaeology works at Crossrail sites including excavation of the Bedlam Burial Ground at Liverpool Street station where up to 4,000 skeletons from the 1600s-1800s are thought to be buried
Major infrastructure works on the surface section to help increase capacity on the existing rail network, including construction of a new fly-over close to Heathrow, a new rail-underpass in Acton and the rebuilding of existing rail bridges to provide room for overhead electric equipment for the new Crossrail trains
Further designs and plans finalised for station improvements to be made along the surface section of the Crossrail route including a new station at Abbey Wood
A section of the Royal Docks will be drained to allow major works on the Connaught Tunnel to commence and involve opening the tunnel from above for the first time since its construction in 1878
Further planning applications submitted for over-site developments above Crossrail stations including the western ticket hall (Davies Street) at Bond Street
Continued progress by Canary Wharf Group on the four-storey retail development above the new Canary Wharf station, including the start of work on the timber lattice roof in late 2013
Completion of the first Crossrail tunnels by the end of 2013 – the 6km western section between Royal Oak and Farringdon
Thousands more contracts to be awarded by Crossrail's principal contractors and the supply-chain throughout 2013, creating further opportunities for UK companies of all sizes.
Aerial images released today show how Crossrail is transforming the face of London.
Andrew Wolstenholme, Crossrail's Chief Executive said: "These striking new aerial images provide a glimpse of how Crossrail is transforming the London landscape with world-class new stations and transport links.
"From major new developments in central London to a range of transport improvements across the southeast, this unique bird's eye view shows how Crossrail is taking shape.
"Over 20 million hours have now been worked on the project and 2013 will see further important milestones including the completion of our first tunnels, further progress to construct the new central London stations and upgrades to the existing rail network."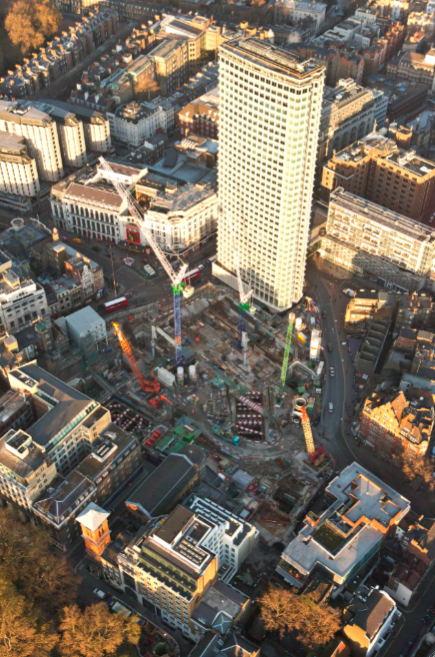 Progress at Tottenham Court Road