The new force in the heavyside materials sector is called Hope Construction Materials and it opens its gates with a promise to re-define the service provided in the sector.
Hope operates more than 170 ready-mixed concrete plants, several aggregates operations, two asphalt plants and the UK's largest cement plant at Hope in Derbyshire.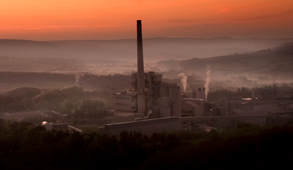 Using raw materials sourced and manufactured here in Britain, Hope also boasts a UK-based workforce of more than 800 people, selected from the two previous businesses.
As such it ranks as the country's largest independent supplier of construction materials, with sites spanning the length and breadth of England, Scotland and Wales.
Hope Construction Materials Chairman Amit Bhatia said: "The formation of Hope Construction Materials is evidence of our belief that there is an opportunity in the marketplace to re-define the service provided by businesses.
"Our name refers not only to our core asset but also to this confidence. Led by a strong and experienced management team, I believe that Hope Construction Materials will soon establish itself as a player of reliability and quality.
"From Inverness to Exeter, and Llanelli to Lowestoft, Hope Construction Materials will supply the country with high-performance and innovative cement, concrete, aggregates and asphalt."
CEO Chris Plant said: "Hope is the first major new name in the British building materials sector for more than a decade. We have a rare opportunity to take a different approach to customer service, bringing in new ideas, innovative products and services, and better ways to meet the needs of the construction industry. We have specifically designed the company to encourage fresh thinking and bring an entrepreneurial, partnering spirit to the industry."
Contacts
Cement: National enquiries 0845 5201 888
Concrete, Aggregates & Asphalt:
Scotland: 0845 5201 725
North: 0845 5201 655
Central: 0845 5201 755
South West: 0845 5201 855
South East: 0845 5201 745