Even the more stable three-month comparison for output was down 9% against last year, with new work diving 12% and repair and maintenance down 5%.
A sharp fall in commercial building, which accounts for over a fifth of total construction output, led the falls which were seen across all major areas of the industry.
This was down 16% in the Sept-Nov three month comparisons.
Even the volume of infrastructure work fell 2.4%, after recently showing signs of recovery.
Public housing repair and maintenance was the only area to register any growth at 6.6% over the three-months, although the sector is small accounting for 3% of total work.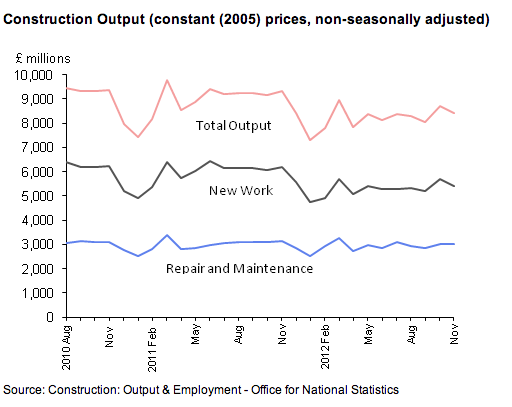 CECA director of external affairs Alasdair Reisner said: "Today's figures have worrying implications for the wider economy.
"The government has rightly focused its recovery strategy on securing growth in the infrastructure sector. It is concerning that the general trend over the last year has been one of negative, rather than positive growth.
"CECA hopes that recent efforts to stimulate immediate activity will bear fruit, both for the sake of our members and for UK plc. At the same time, these figures show that there is no room for complacency if the infrastructure sector is to act as a motor to kick-start growth in the economy."
David Crosthwaite, an economist for construction and property consultant AECOM, said: "Yet another disappointing set of data for the construction sector was announced today with an almost 10% decline in total output year on year.
"Again public sector construction fared badly with some significant declines, particularly in the public housing sector.
"With many forecasters now predicting that 2013 will be another difficult year for construction with little or no growth through 2013 and no positive news forecast until 2014 at the earliest, one has to ask where is the light at the end of the tunnel?"