The solo pilot is one of the victims and 13 other people have been injured.
The pilot has been named as Capt Pete Barnes, 50, who worked for the Rotormotion helicopter charter business.
Four of the injured patients have been taken to hospital with the rest treated at the scene.
Police said the helicopter hit the crane on top of the 180 metre building under construction at St George Wharf on the banks of the Thames in Vauxhall.
Part of the crane jib fell 50-storeys onto the street below following the crash while the helicopter came down in nearby Wandsworth Road.
The tower is at its full height and has been topped-out.
Brookfield Multiplex is main shell-and-core contractor on the site and is understood to own the Comedil crane.
The crane driver was not in his cab at the time of the collision after being told not to go up because of the poor visibility caused by the foggy conditions.
The crash happened at 8am just as workers were arriving on the site.
A number of builders were believed to be on site at the time concentrated in the basement area.
Many were waiting for the works lift to take them to the higher floors when the helicopter hit.
All have been accounted for and their were no injuries among site personnel.
Eye-witnesses said the helicopter "cartwheeled out of the sky" after it smashed into the crane in heavy fog.
Flaming aviation fuel rained down onto the site and streets below and a motorist had to be rescued from his burning car by the Fire Brigade.
The damaged crane at the top of the building is now hanging down the side of the structure while a team of 57 fire fighters battles to make its safe.
The London Fire Brigade said: "Our specialist crews are working with contractors to make the crane at St George's Wharf safe."
One eye-witness said: "I saw the helicopter hit the top of the crane and come down just to the left of the station.
"There was quite a large amount of fire and a huge smoke cloud. It wasn't on the road, but into a building site where they are building the new Nine Elms area.
"There's a huge number of emergency services."
Police said it was understood the helicopter was on a scheduled flight from Redhill in Surrey to Elstree in Hertfordshire.
A spokesman for the London Heliport at Battersea said the pilot had requested to divert and land there due to bad weather.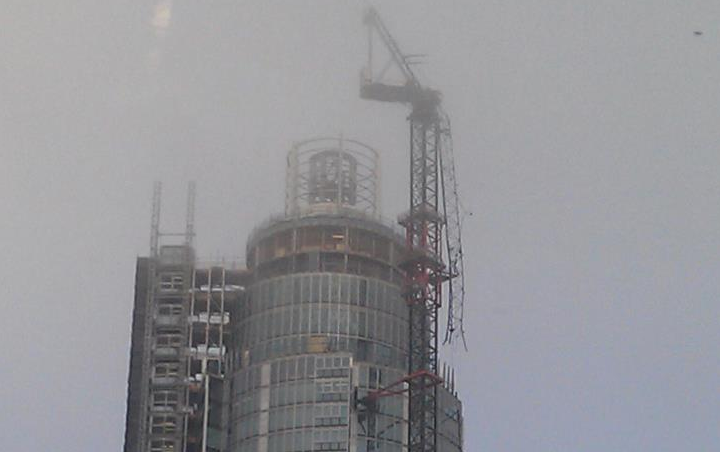 Hanging jib after helicopter collision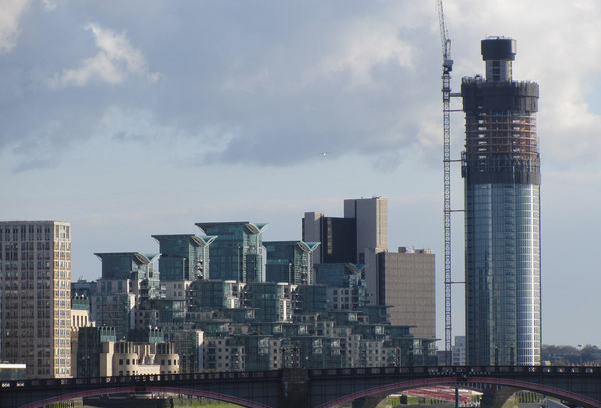 Berkeley Homes residential tower before the crane crashed this morning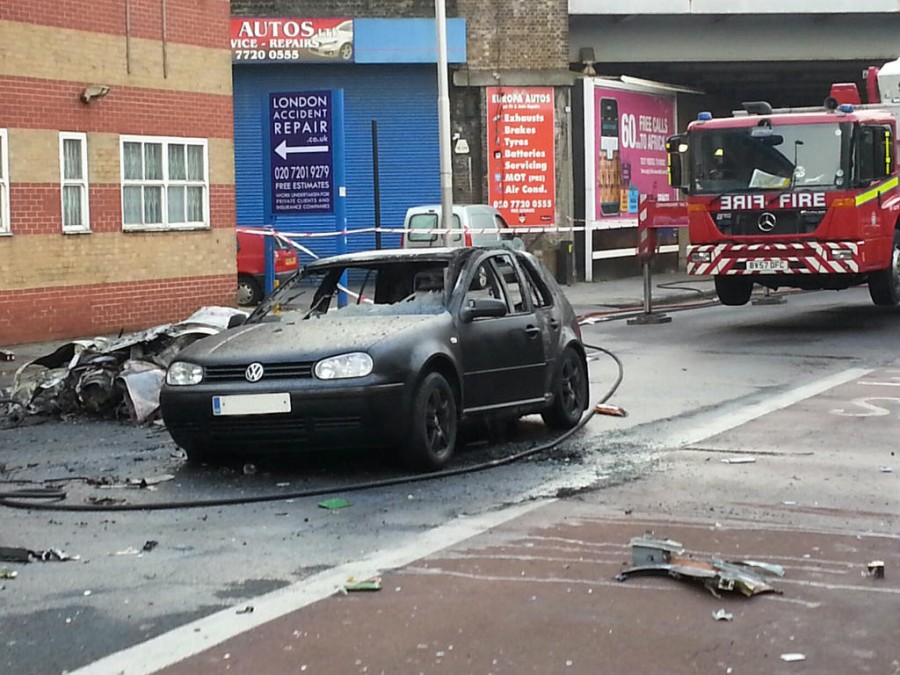 Wreckage on street after crash