Construction is expected to start in 2015 after planning permission is secured later this year.
The joint venture plans to redevelop and combine Croydon's current shopping centres -the Whitgift Centre and Centrale – to create a mixed use scheme of around 200,000 square metres which will include retail, leisure and residential with the potential for hotels and offices.
The deal ends months of wrangling between Hammerson and Westfield who had previously been promoting rival schemes for Croydon.
Previously competing plans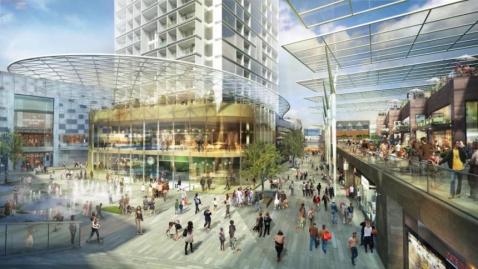 Heart of Hammerson shopping quarter plan
As part of the joint venture, Westfield has acquired a 50% interest in the £115m Centrale shopping centre from Hammerson.
The joint venture will also purchase a 25% interest in the Whitgift Centre, following completion of Hammerson's conditional acquisition agreement with Royal London.
Westfield and Hammerson have set up a joint management company which has responsibility for development, leasing and asset management of the completed scheme.
The Partnership will engage Westfield to undertake the design and construction of the project. Hammerson will continue to asset manage Centrale and any further acquisitions prior to the development of the Whitgift Centre.
A Westfield Executive will lead the project development team and it is intended that a Hammerson Executive will lead the asset management of the completed centre.
Boris Johnson, Mayor of London, will officially launch the new joint venture today at the Fairfield Halls in Croydon.
He said: "Croydon has huge potential to return to its former glory as one of London's most vibrant town centres, and a major driver of its economy. The redevelopment of the Whitgift Centre at its heart is crucial to this vision.
"Westfield and Hammerson's innovative developments have breathed new life into long neglected corners of cities across the country, creating thousands of jobs and delivering growth that will soon be repeated in south London.
David Atkins, Chief Executive of Hammerson said: "We have shown our commitment to Croydon through our existing investments in the town centre and I believe that by working together we can deliver a world class scheme for retailers and residents.
"Both we and Westfield remain excited and convinced by the opportunity in Croydon, which we can now progress with clarity."
Frank Lowy, Chairman of Westfield, said: "The £1billion redevelopment joint venture with Hammerson will provide certainty for the residents, local businesses and retailers of Croydon and the region.
"The delivery of a major retail regeneration scheme will re-establish Croydon as South London's premier shopping district and will be a catalyst to further investment and development in the Croydon borough.